About the Artist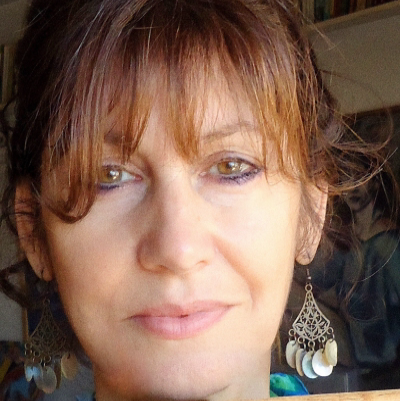 Born in Buenos Aires, Argentina. Studied with the Argentine masters Luis Barragan and Elio Eros Vitali. Participated in many Art shows, locally and abroad. When in USA, exhibited in an important East Coast gallery. Last exhibition at the Salon de Arte Argentino Actual, at the Sivori Museum, Centro Cultural Recoleta.
She attended the Art Moore School of Fine Arts, focusing on painting as a speciality and often takes workshops in Buenos Aires.
She feels passion for painting and does it almost in a compulsive way on canvas, presently using oil and acrylic.
Every artist dips his brush in his own soul, and paints his own nature into his pictures…
I have always enjoyed art from an early age. This love of Art has stayed with me and developed and grown, and now, I cannot imagine wanting to do anything else. Making art for me, is an innate response to the inner and outer worlds, and a balancing act between the intuitive and the considered.
I am interested in exploring my natural abilities and enthusiasm for my commitment to do an art within my innermost thoughts and emotions.
My art is an evolving process, I take and represent only elements which are the essence of the object or of the imaginary being. I rely on my desires for beauty, poetics and seduction.
Helena and Fearless Colour
Helena Wierzbicki is a contemporary artist who uses bold colours and recognisable images to create imaginative pieces of art. The artist, who now resides in Argentina, has been creating art since she was young. She found that she enjoyed spending full days on drawing and painting, allowing her the freedom to express herself.
The first thing you will notice about a piece of art from Wierzbicki is the vibrant use of colour and broad brush strokes. She feels that her work is influenced by Fauvism, but ultimately they are produced by her creative mind delving into her emotions and sharing them on the canvas. The colours are meant to capture her emotions and the essence of the subject being depicted. The use of human figures and faces is meant to give the audience something they recognise, but through the viewpoint of her own imagination.
Helena Wierzbicki shares her art with a broad audience and was able to reach patrons all across the world. As you look through her extensive gallery, you will be able to see the energy she creates with each subject. Choosing one of the many beautiful works would add that same energy to any room and create an amazing conversation piece.
On the acrylic on canvas abstract portraits, bold colors are used to convey emotion, the intentional expression of my particular mood…
Some of my artwork contains specific features that influence the perception of emotion, such as shape, color, texture, movement and depth.
The Expression of a Chromatism
When visualizing the work of Helena Wierzbicki, the expression of a feeling expressed in latent colors is detected, creating an atmosphere of light that breathes strength and sensitivity.
Because of its powerful chromaticism and refined profiles to the environment of its enigmatic figures, it creates a magnetism of seduction in its totally balanced work.
J.Carandell