Location - C-173 Westend Heights , DLF Phase 5, Gurugram, 122009, India
About the Artist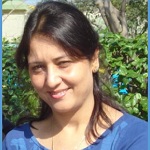 Born in Shimla, Himachal Pradesh, North India.
I have been living with my family in Gurugram, a satellite city of Delhi, the national capital of India. This is now my home and place of work for many years.
Although I studied science and made a career in the Corporate world, my heart and mind were always in right brain pursuits. The smell of the art room in school, the water colours and the world of paint and brushes was liberating and exhilarating.
I was a reader, a writer, and in my mind a painter at all times. In the whirlwind of making a living, while my passion for art was relegated to the background, it resurfaced at every given opportunity, until a few years ago, I could not resist its calling and started with a few paintings in oil.
Now I express my thoughts and sentiments in oil on canvas, acrylics, mix media through portraits, landscapes, still life, architectural representations, realistically and sometimes abstract.
I essentially use my art to express my long lost beautiful memories, my joys, my thoughts and also my intrigues of human behavior. There is always that which is expressed and visible and equally that which is sublime and invisible to the eye. It is this that is most challenging which I wish to express through my subjects and colours or lack of them. My true journey has just begun.