I'm a 'Soulful Artist' hailing from Essex. I love painting faces and I embrace their raw emotion through natural expression and light.
Nearly four years ago I partially lost my memory and although this was a very frightening time, there was thankfully nothing sinister to worry about.
The silver lining was that it seemed to give me a creative reboot and the right hand side of my brain is now firing on all cylinders.
I've always wanted to paint, specifically with oils, so for the last three years I've been learning and refining my technique.
People were constantly asking me when I would start selling my work and so during lockdown this is exactly what I started to do. I've now been commissioned many times to paint family (and pet) portraits and I'm also trying to build up a body of work on the side to sell.
Art is a way of connecting to others and to ourselves and for me it's like therapy. Even without my memory, I have imagination and that is what matters.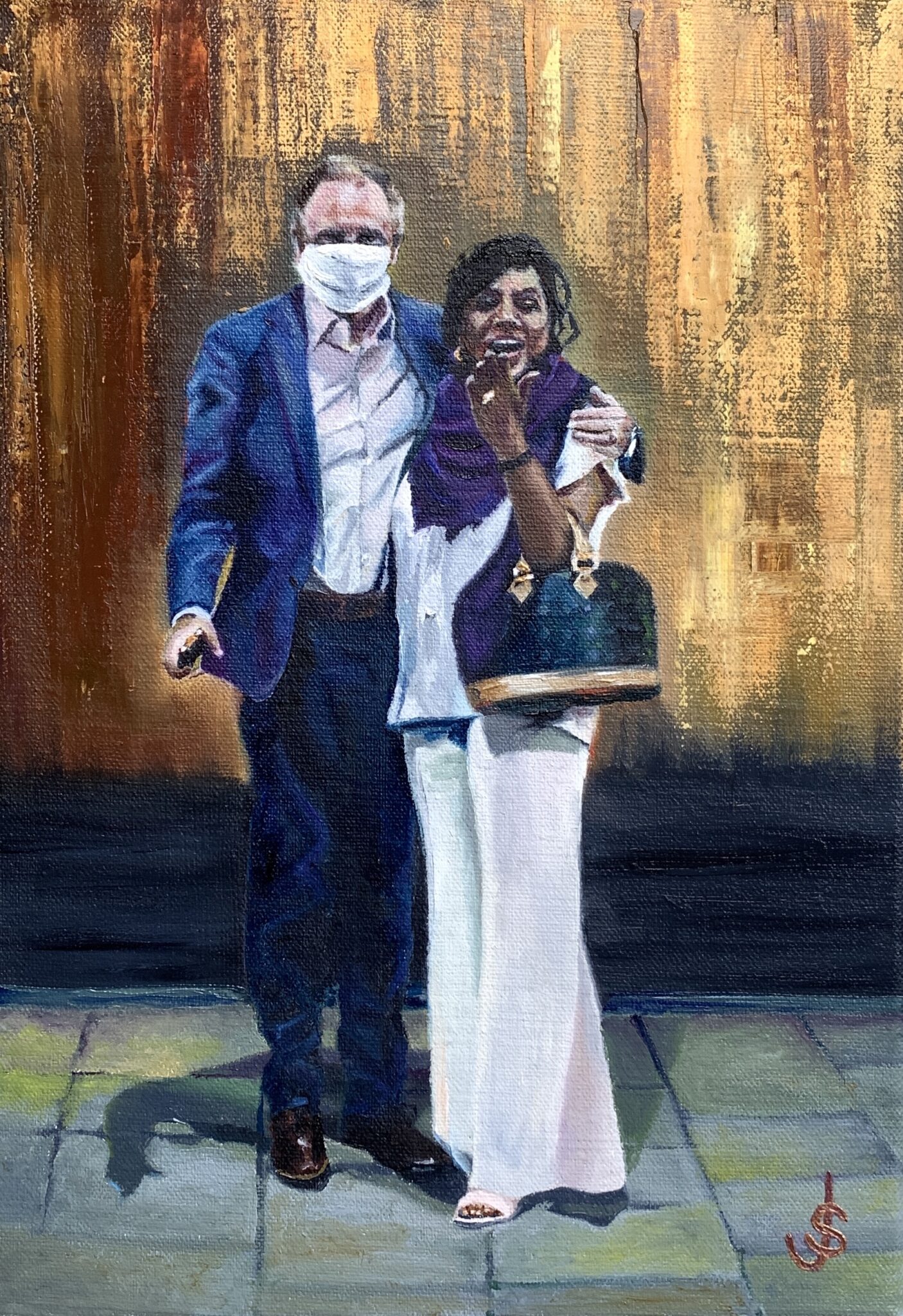 A Mother's Love Knows No Bound
Medium of Artwork
Oil on canvas
Commentary on Artwork
'A Mother's Love Knows No Boundaries'
These parents were waving to their son from afar. He was the one who took the reference photo and who commissioned me to paint it as a present for his Mother's special birthday. For me, there are three people in this painting and the narrative really tugged on my heartstrings. Possibly in part due to the fact that I had just lost my own Mum but also the thought of ever being forced to keep away from my son in the future is incomprehensible and yet so many millions of people are still currently going through this.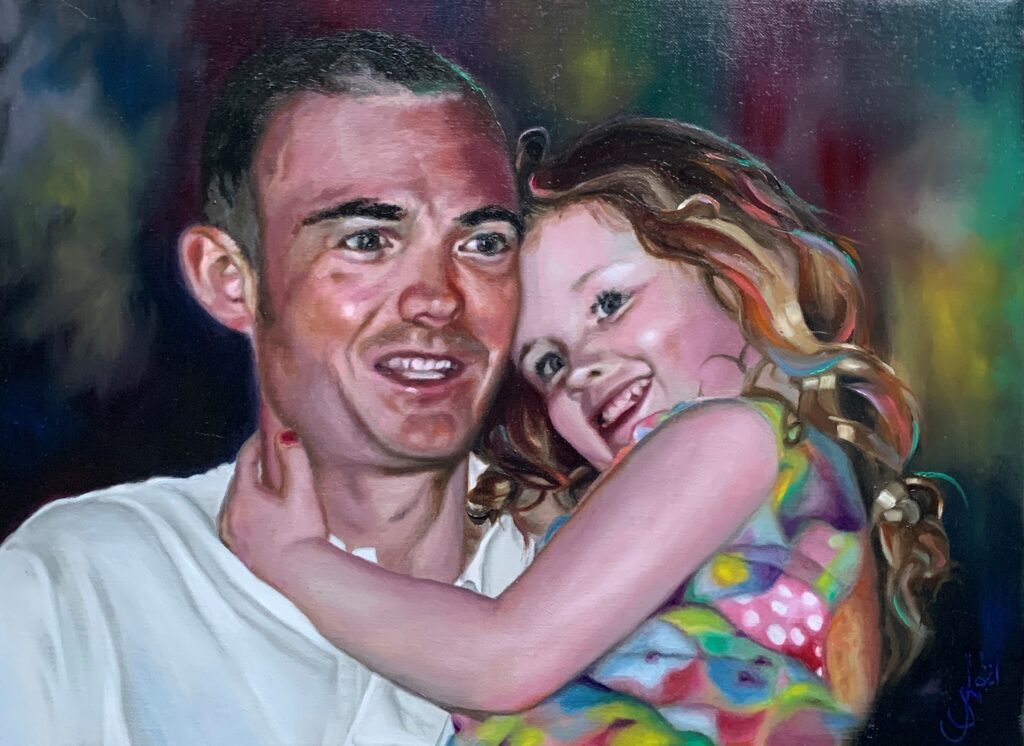 Wish Upon A Star
Medium of Artwork
Oil on canvas
Commentary on Artwork
'Wish Upon A Star'
A father and daughter, stood before a certain famous fairy castle by night. I was commissioned to paint this by his wife for his 40th birthday.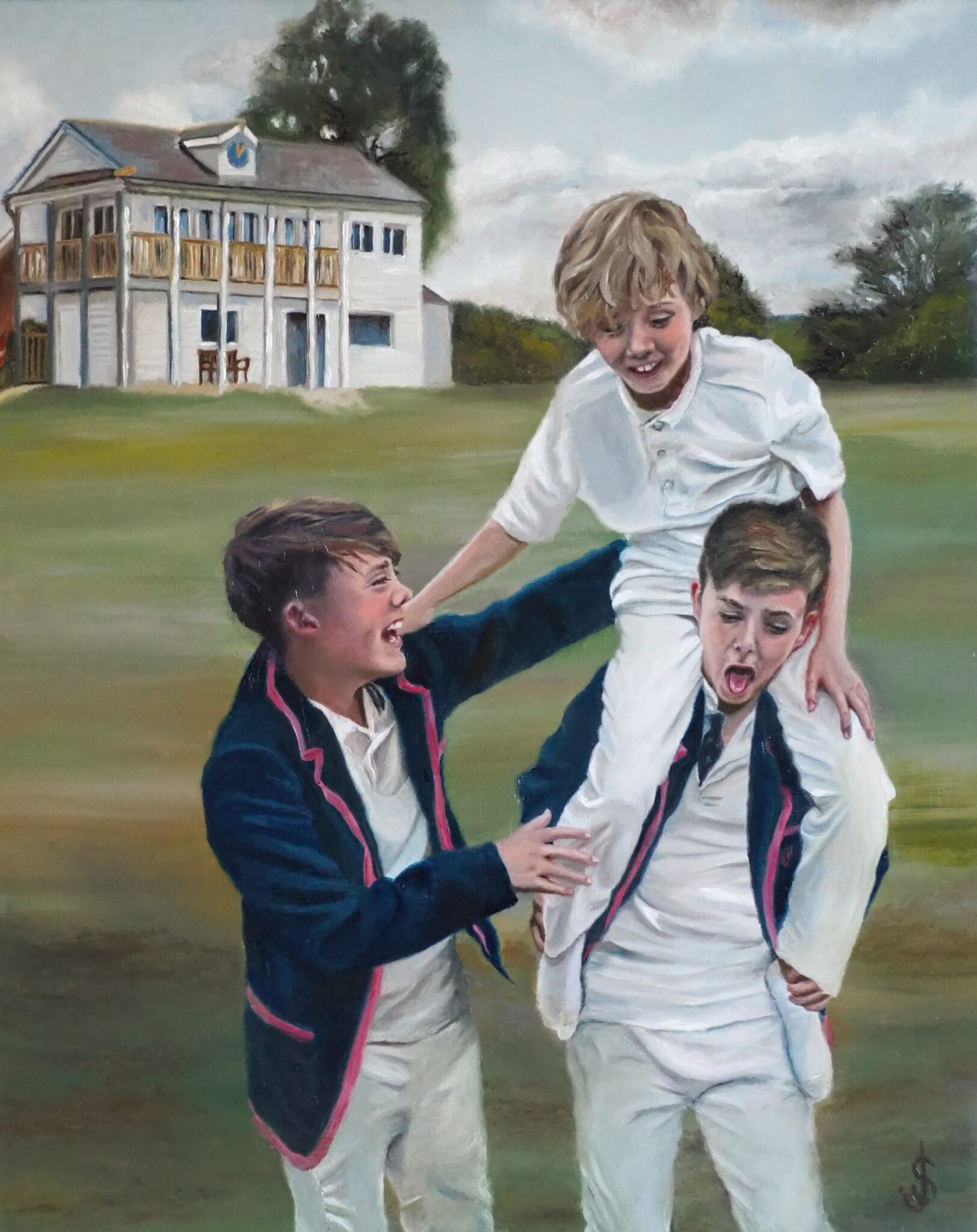 Over But Not Out
50cm x 40cm
Medium of Artwork
Oil on board
'Over but not out'
This was actually two photographs morphed into one. On 10th July 2020 at the exact time you see on the cricket pavilion clock, my son left his preparatory school for the last time. But due to Covid-19 there was no way he could have larked around with his two best friends like this and none of the celebrations we were planning were able to come to fruition.
I hope my son will always treasure this souvenir of his school, his beloved cricket and these two super lovely boys who welcomed him with open arms and made him belly laugh constantly.