My name is Smart Thin Freec and I am an artist specializing in subconscious marker drawing (with no use of pencil sketching or layering). The whole process of creating my art is a form of meditation to me, the way of understanding myself better by subconsciously visualizing what is hidden under all the layers of my consciousness and observing my inner world with a slight detachment.
Each piece I make is absolutely unique, unpredictable and consists of hundreds of small stories and details, intertwined in their meanings, despite the fact that all these connections are unintentional.
The most important trait of my artwork is that both darkness and light are represented equally, but instead of one being the opposite of the other, they co-exist, and rather supplement each other. It all comes from the fact that every artwork is (to extend) a reflection of the artist that gave it a life, and since my core values are honesty and transparency, the reflection is absolute.
I also believe that all the emotions and feelings should be accepted and embraced instead of suppressed and that's the main message I am trying to share with the world. The technique of my drawing has been evolving over the course of last couple of years and thanks to the fact that I never went to an art school it is not limited by an art theory and ancient dogmas.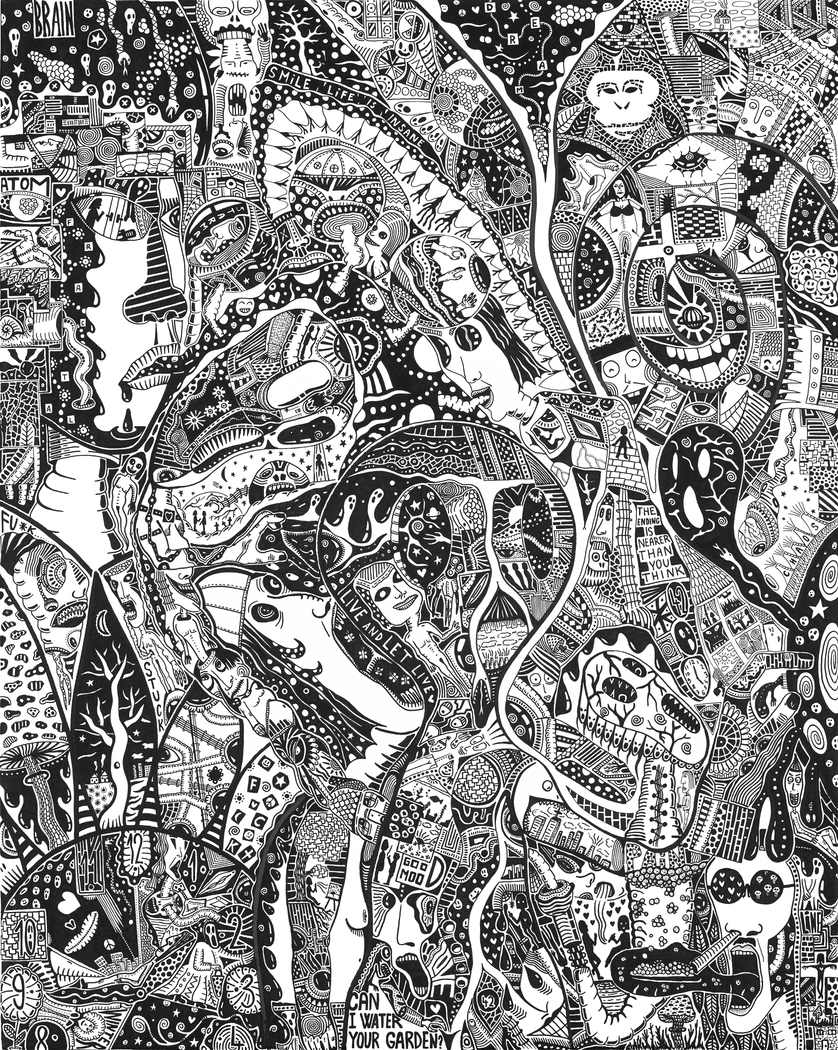 Evolving Complexity of Being
Medium of Artwork
Subconscious Marker on Canvas
Commentary on Artwork
The whole process used to bring this artwork to life is subconscious, there is no desired nor expected outcome to it. Sharpies take me places that are both exciting and scary, happy and sad, full of joy, but also agony and grief, the places deep inside my mind. This biggest (so far) piece is a perfect reflection of the most vulnerable and distant part of my soul. The part that has been experiencing this chaotic world full of changes but never gave up and always found a strength to keep on fighting and to transform everything it has been facing into art that can inspire others.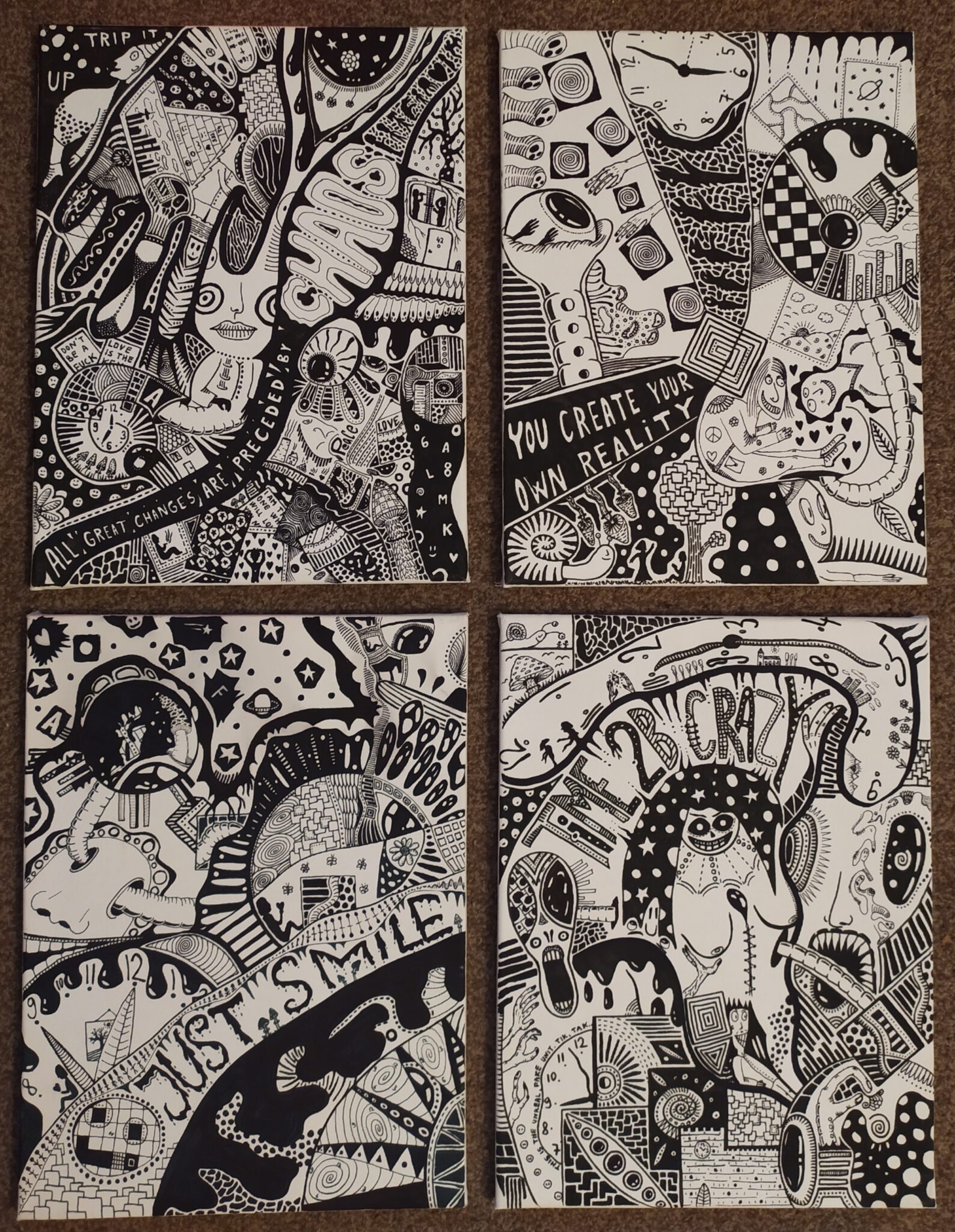 Introspection of Chaos
Medium of Artwork
Subconscious Marker on Canvas
Commentary on Artwork
These 4 complex pieces are a representation of 4 different stages I went through in summer 2020. Life of a Snail – Looking over the shoulder into the past while aiming for the unknown and uncertain horizons. Visions of Future – Snapping out of my comfort zone to realize that my soul is full of love and feelings. Time 2B Crazy – The mind explodes in ecstasy and the reality becomes better than dreams. Evolution – Growing up as a person, learning from my own mistakes, accepting past for what it is. There is a 5th unofficial piece in the collection, Garden of Eden (sold). It fits between "Time 2B Crazy" and "Chaos", and it is a perfect representation of inner peace and harmony.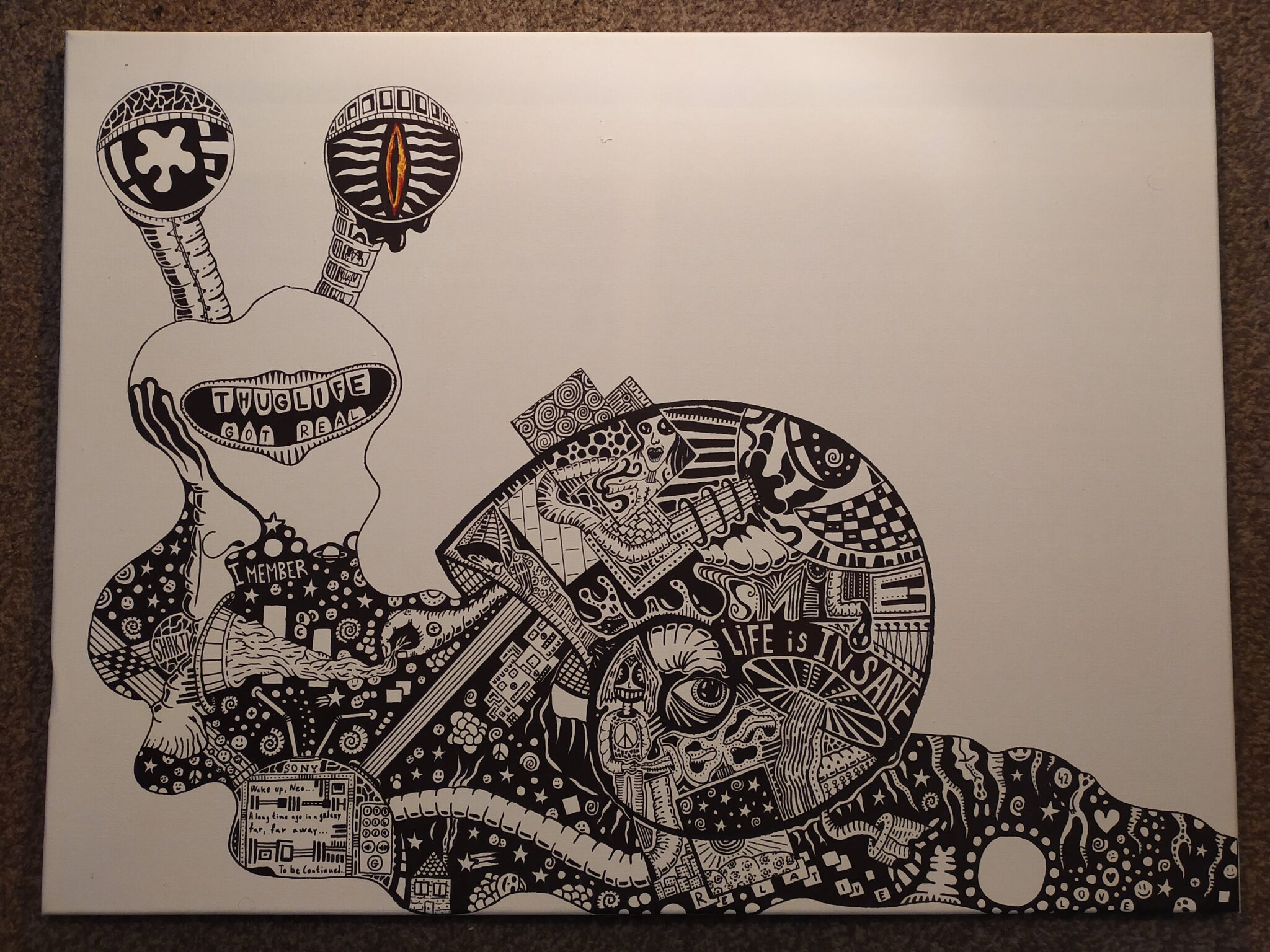 The Mother of Snails
Medium of Artwork
Subconscious Marker on Canvas
Commentary on Artwork
After taking a few months long break from art and dealing with hustles of everyday life, stress and uncertainty my mind overflew with unfulfilled expectations, over-thinking and analyzing my place in the present world on repeat (in circles). The snail represents me, a lonely traveller with his entire world on his back, half mad and half insane but still with a smile on his face. He is full of paradoxes and contrasts and with a little space between him and the outside world that is getting thinner and thinner every second. The white bubble around his head is either a sign of healing or blanking the thoughts out.